Black Forest Gâteau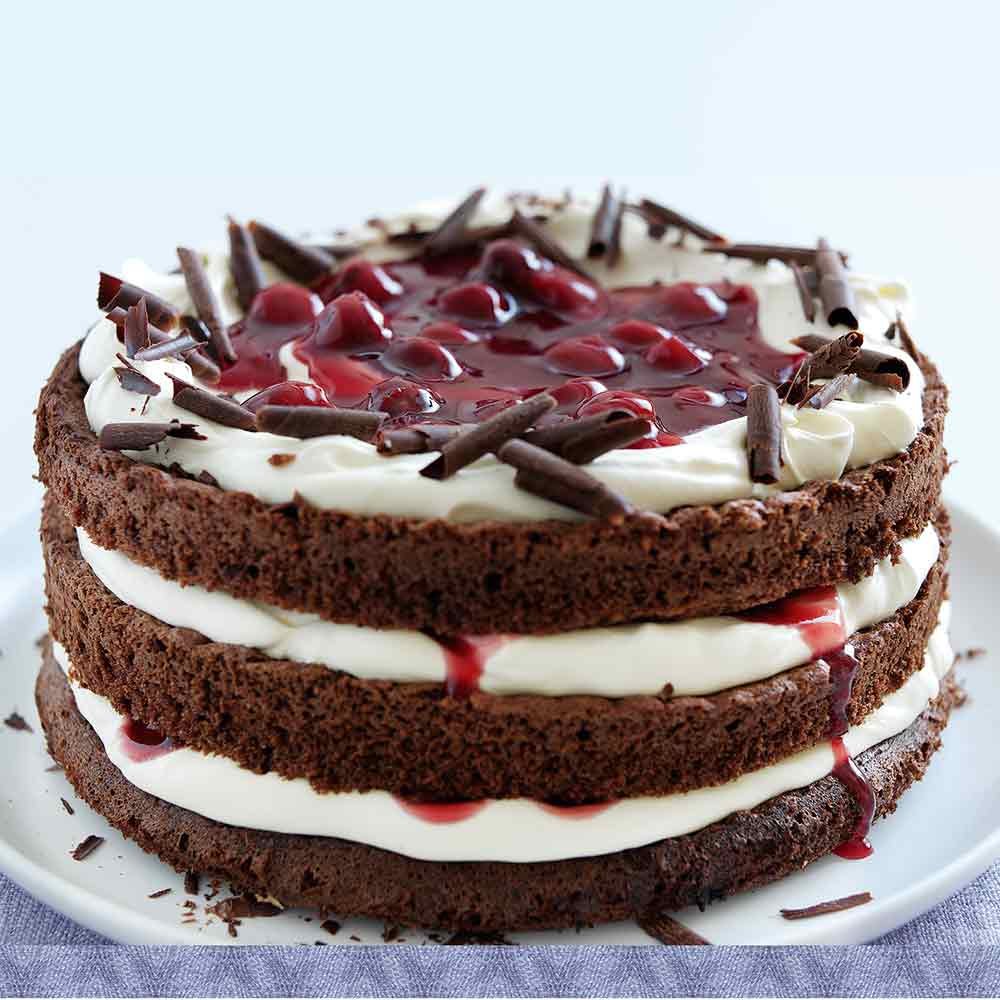 Ingredients
150g (5oz) butter, melted
6 eggs
½ tsp vanilla extract
225g (8oz) caster sugar
50g (2oz) plain flour, sifted twice
50g (2oz) cocoa powder, sifted
4 tbsp Kirsch liqueur
450ml (¾ pint) double cream
410g can black cherry pie filling
Chocolate curls (made with vegetable peeler)
Instructions
1
Grease and flour bases and sides of three 20cm (8in) sandwich tins.
2
Strain melted butter through muslin or use Clarified Butter.
3
Whisk together eggs, vanilla and sugar over a saucepan of hand-hot water for 8–10 minutes or until mixture is thick and texture of softly whipped cream.
4
Remove bowl from saucepan and continue whisking for a further 5 minutes.
5
Gently fold in flour, cocoa powder and melted butter, using a metal spoon.
6
Divide mixture between prepared tins.
7
Bake at 180°C/160°fan/Mark 4 for 10–15 minutes.
8
Remove from oven and cool for 5 minutes in tins, then place on a wire cooling rack to cool thoroughly.
9
Prick cooled sponge cakes all over with a skewer.
Spoon Kirsch over cakes and allow to rest for 5 minutes.
10
Whip cream until softly stiff.
11
Sandwich cakes together with some of the whipped cream and pie filling.
12
Spread top with cream and spoon pie filling in the centre.
13
Decorate top with chocolate curls.
Serve at once.
Emily Davenport