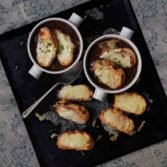 Baked Red Onion Soup
A super comforting Baked Red Onion Soup from the
Cook it Slowly
Cookbook.
Ingredients
FOR THE SOUP
Red onions 500g (1lb 2oz), very thinly sliced
Balsamic vinegar 2 tbsp
Caster sugar 1 tbsp
Garlic 2 cloves, peeled and crushed
Salt and freshly ground black pepper
Bay leaf 1
Thyme 4 sprigs
Unsalted butter 50g (2oz)
Plain flour 2 tbsp
Red wine 150ml (¼ pint)
Hot vegetable stock 900ml (1½ pints)
.
FOR THE CHEESE TOASTS
Small baguette, cut into 12 x 2cm (¾in) thick slices
French mustard 1 tbsp
Gruyère cheese 75g (3oz), grated
Chopped parsley 2 tbsp (optional)
Instructions
1
Preheat the oven to 180˚C/160˚fan/Gas 4.
2
Put the onions in a lidded casserole dish. Stir in the vinegar, sugar and garlic. Season well, add the bay leaf and thyme, dot with butter and cover with foil, shiny side down, and the lid. Bake for 1½ hours, stirring after 1 hour, until tender and golden.
3
Stir in the flour until well blended, then pour in the wine and stock. Re-cover with foil and the lid and return to the oven for 45 minutes.
4
Remove the foil from the onion mixture, stir well and discard the bay leaf and thyme.
Preheat the grill to hot. Toast the bread on both sides, then spread with mustard and sprinkle with cheese. Grill until the cheese is lightly golden and bubbling.
5
Ladle the soup into warm bowls and arrange the toasts on top, sprinkle with parsley, if using, and serve.
Emily Davenport