Waffleberry Pie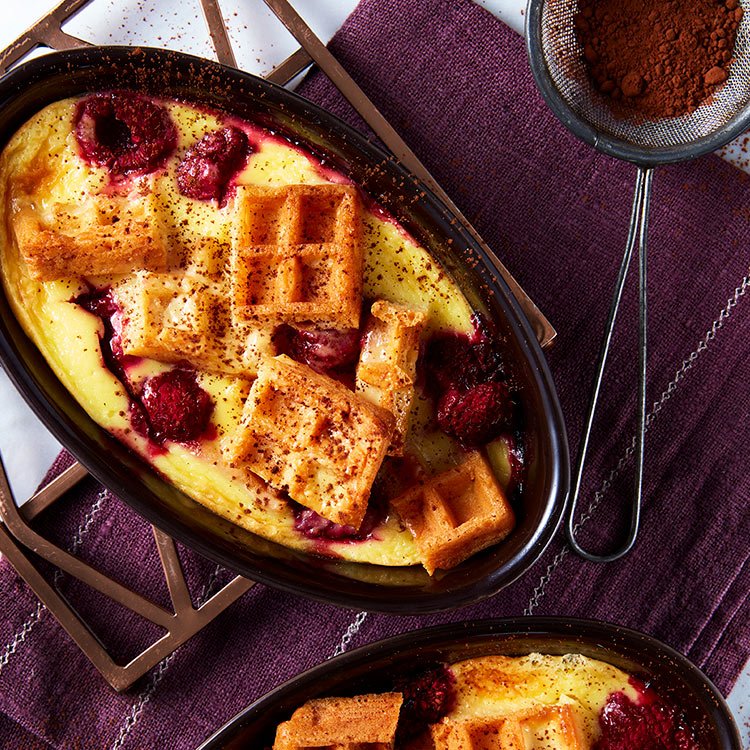 Ingredients
Belgian or American-style waffles 2
Raspberries 275g (10oz)
Half fat crème fraîche 200g (7oz)
Eggs 2, beaten
Vanilla extract ½ tsp
Caster sugar 50g (2oz)
Cornflour 1 tsp
Icing sugar 2 tsp
Cocoa powder 1 tbsp
Instructions
1
Preheat the oven to 160°C/140°fan/Gas 3.
2
Cut the waffles into 2.5cm (1in) squares. Divide the waffles and the raspberries between four 250ml (9fl oz) ramekins or a 1 litre (1¾ pint) ovenproof dish.
3
Whisk together the crème fraîche, eggs, vanilla, caster sugar and cornflour. Spoon over the raspberry and waffle mix and leave to soak for 10 minutes.
4
Bake for 20 minutes until puffed up and golden but still slightly moist on the surface. Leave to stand for 10 minutes. Dust with the icing sugar and cocoa and serve warm.
Emily Davenport