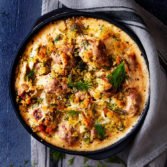 Swedish Meatball Gratin
A satisfying Swedish Meatball Gratin taken from the
Dairy Diary
2023.
Ingredients
Pork mince 500g (1lb 2oz)
Echalion shallots 2, peeled and finely chopped
Garlic 1 clove, crushed
Allspice and nutmeg ¼ tsp of each
Breadcrumbs 125g (4½oz)
Egg 1, beaten
Olive oil 4 tbsp
Fennel 1 large bulb, finely sliced
Butter 50g (2oz)
Plain flour 2 tbsp
Vegetable stock 350ml (12fl oz)
Crème fraîche 100ml (3½fl oz)
Dijon mustard 2 tbsp
Soy sauce 2 tbsp
Fresh dill 25g (1oz), finely chopped, plus extra to serve
Cranberry sauce to serve (optional)
Instructions
1
Combine mince, shallots, garlic, spices, 50g (2oz) breadcrumbs, egg and seasoning. Shape into 20 balls.
2
Heat 1 tbsp oil in a frying pan and fry the fennel until softened. Transfer to a 2 litre (3½ pints) ovenproof dish. Add 1 tbsp oil to the pan and fry meatballs for 3-4 minutes until golden. Transfer to the dish.
3
Melt butter in pan, stir in flour and cook for 1 minute. Whisk in stock, crème fraîche, mustard and soy; season. Simmer for 1-2 minutes to thicken. Pour over meatballs.
4
Preheat oven to 200°C/180°fan/Gas 6. Toss together dill, remaining breadcrumbs and 2 tbsp olive oil and sprinkle over the top. Bake in the oven for 25-30 minutes until golden. Garnish with extra dill and serve with cranberry sauce, if using.
Katy Hackforth