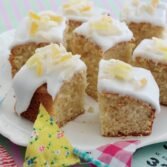 Summer Fête Lemon Cake
A mouthwatering Summer Fête Lemon Cake taken from the
Dairy Diary
. This delicious, zingy recipe is perfect to share around at any event and is a fun upgrade on the classic lemon cake.
Ingredients
Butter 175g (6 oz), softened
Golden caster sugar 175g (6 oz)
Lemon 1, finely grated zest and juice
Eggs 3 large
Self-raising flour 225g (8 oz)
Baking powder 1 tsp
Fondant icing sugar 225g (8 oz)
Jelly oranges and lemons, sliced to decorate
Instructions
1
Preheat oven to 180°C/Gas 4. Beat together butter, sugar, lemon zest, 1 tbsp juice, eggs, flour and baking powder using an elector mixer.
2
Spoon into an 18cm (7 in) square cake tin, greased and lined.
3
Sift icing sugar into a bowl and gradually beat in enough lemon juice (and water, if necessary) to make a smooth thick icing. Spoon on top of cake and spread evenly with a knife.
4
Bake for 35-45 minutes or until firm.
5
Leave to cool in tin for 10 minutes before turning out onto a wire rack.
Emily Davenport