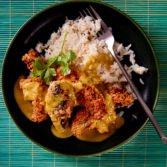 Crispy Mushroom Katsu Curry
A flavoursome Crispy Mushroom Katsu Curry taken from the
Dairy Diary
2023.
Ingredients
Vegetable oil 1 tbsp, plus extra for frying
Echalion shallot 1, peeled and chopped
Garlic 1 clove, peeled and crushed
Carrot 1 small, peeled and grated
Mild curry powder 1 tsp
Plain flour 1 tsp plus 3 tbsp for dusting
Vegetable stock 300ml (½ pint)
Creamed coconut 25g (1oz), chopped
Large flat mushrooms 4, thickly sliced
Egg 1, beaten
Panko breadcrumbs 100g (3½oz)
Jasmine rice 250g microwave pouch
Fresh coriander leaves small handful, to serve (optional)
Instructions
1
Heat 1 tbsp oil in a pan and fry shallot, garlic, and carrot for 5-7 minutes until softened. Stir in curry powder and heat for 1 min. Add 1 tsp flour and cook for a further 30 seconds. Gradually stir in stock to make a thick sauce. Stir in coconut and bring to a simmer for 3-4 minutes. Remove from heat and use a hand blender to whizz to a smooth sauce; season to taste.
2
Heat 1cm (¼ in) oil in a frying pan. Dip mushrooms in seasoned flour, then egg, and lastly panko breadcrumbs. Fry for 2-3 minutes until crisp and golden. Drain oil on kitchen paper.
3
Heat rice according to packet instructions. Serve with breaded mushrooms, sauce and a sprinkling of fresh coriander leaves, if liked.
Katy Hackforth