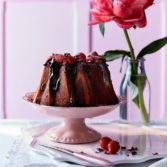 Chocolate, Strawberry and Rose Marble Crown Cake
An indulgent and celebratory Chocolate, Strawberry and Rose Crown Cake designed in honour of Her Majesty Queen Elizabeth's Platinum Jubilee.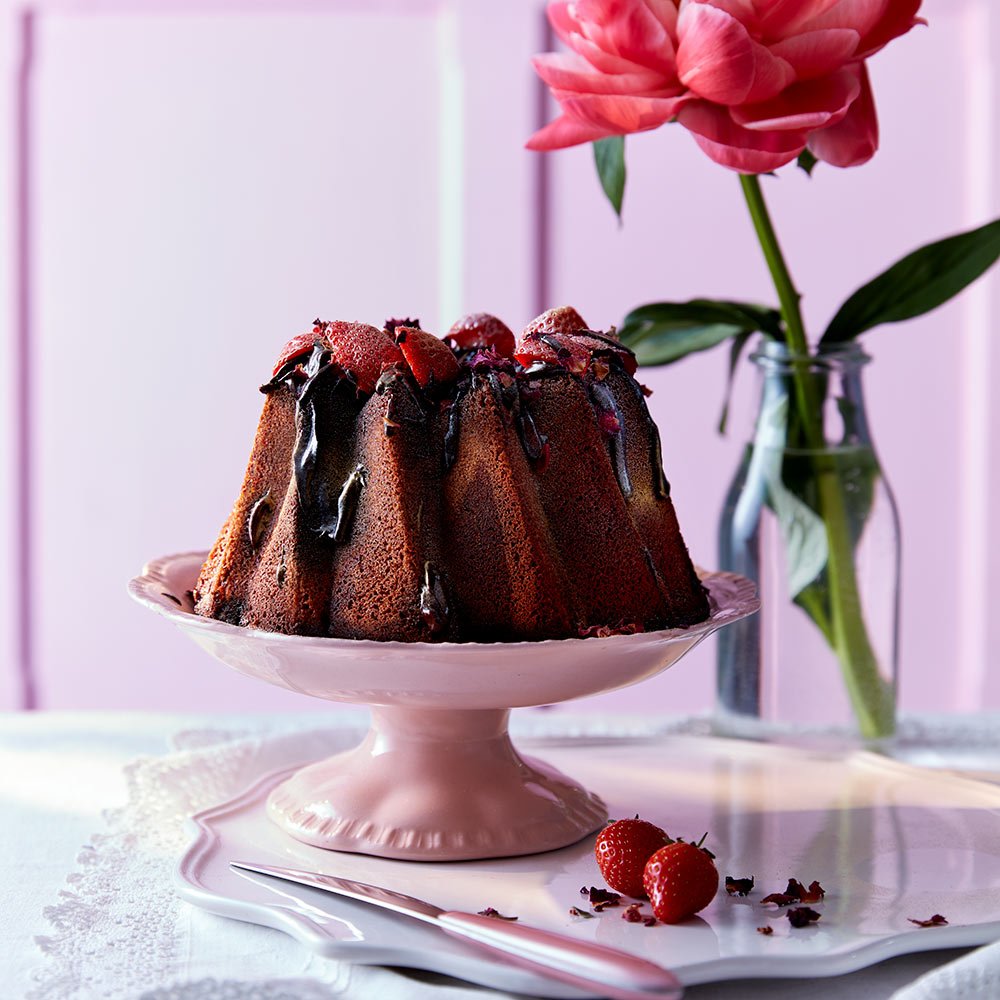 Ingredients
Butter 250g (9oz), softened, plus 25g (1oz)
Caster sugar 250g (9oz)
Eggs 6, beaten
Self-raising flour 250g (9oz), sifted
Baking powder 1 tsp
Milk 5 tbsp
Vanilla extract ½ tsp
Strawberry jam 2 tbsp, sieved
Pink food gel colouring
Rose water 1 tsp
Cocoa powder 2 tbsp
Dark chocolate 100g (3½oz), chopped
Edible decorations such as small strawberries, chocolate truffles, edible glitter, rose petals
Instructions
1
Preheat the oven to 190°C/170°fan/Gas 5. Grease a 24cm (9½in) 2½ litre non-stick bundt tin.
2
Whisk together the sugar and 250g (9oz) of the butter in a large bowl until pale and fluffy, then gradually add the eggs. Fold in the flour and baking powder, mixing until smooth. Stir in 3 tablespoons of milk.
3
Divide the mixture between three bowls. Add the vanilla to one bowl, stir the jam, pink food colouring and rose water into the second, then add cocoa powder to the third.
4
Spoon alternate dollops of cake mixture into the tin, smooth the top then use a knife to make swirls through the mixture to marble. Bake for 40-45 minutes until a skewer inserted into the centre comes out clean. Run a knife around the edge and invert onto a wire rack. Leave to cool completely.
5
Melt the chocolate, 25g (1oz) butter and the remaining milk in a heatproof bowl set over a pan of simmering water. Whisk to a smooth, thick glaze. Drizzle over the cooled cake and top with your choice of decorations.
Emily Davenport