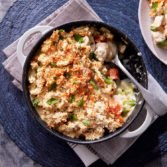 Chicken, Leek & Cheddar Crumble
Ingredients
Carrot 1 large, peeled and diced
Leeks 2, trimmed and sliced
Olive oil spray
Skinless boneless chicken thighs 175g (6oz), cut into bite-sized chunks
Plain flour 25g (1oz)
Semi-skimmed milk 150ml (¼ pint)
Dijon mustard 2 tsp
Salt and freshly ground black pepper
Peas or green beans to serve
Plain flour 50g (2oz)
Light spread 50g (2oz)
Lighter extra mature Cheddar cheese 25g (1oz), grated
Dried breadcrumbs 25g (1oz)
Porridge oats 2 tbsp
Dried rosemary 1 tsp
Instructions
1
Cook the carrot in a saucepan with enough boiling water to cover for 5 minutes then add the leeks and cook for a further 3–4 minutes. Drain thoroughly, reserving 150ml (¼ pint) of the cooking water.
2
Heat a non-stick saucepan and spray with olive oil. Add the chicken and stir-fry for about 5 minutes until lightly coloured. Sprinkle on the flour and cook for 1 minute then gradually blend in the hot vegetable cooking water and the milk and cook, stirring continuously, until the sauce is smooth and thickened.
3
Stir in the mustard and season to taste. Fold in the carrots and leeks. Spoon into a shallow 900ml (1½ pint) ovenproof dish.
4
Preheat the oven to 200°C/180°fan/Gas 6.
5
To make the crumble, put the flour and light spread in a bowl and work together with a fork or fingertips until crumbly. Stir in the cheese, breadcrumbs, oats and rosemary. Scatter the crumble evenly over the chicken mixture. Bake for 20 minutes or until piping hot and golden. Serve with peas or green beans.
Emily Davenport