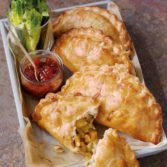 Cheddar & Veg Pasties
Ingredients
Leek 1, quartered lengthways and thinly sliced
Potatoes 3 medium, peeled, cut into chunky chips and then thinly sliced
Swede ½ medium, approx. 200g (7oz), peeled, cut into chunky chips and then thinly sliced
Onion 1 small, peeled and finely chopped
Chopped parsley 2 tbsp
Salt and freshly ground black pepper
Shortcrust pastry 500g (1lb 2oz)
Cheddar cheese 200g (7oz), cubed
Plain flour 4 tsp
Butter 4 small knobs
Egg 1, beaten
Lettuce, cucumber and chutney to serve (optional)
Instructions
1
Preheat the oven to 200°C/180°fan/Gas 6. Line a baking sheet with baking paper.
2
Mix together the leek, potatoes, swede, onion and parsley and season well.
3
Divide the pastry into four and roll each piece out into a circle; place a 23cm (9in) plate on top and cut around it. Brush water halfway around the edge and then pile a quarter of the vegetables into the centre.
4
Add the cheese, pushing some into the vegetables. Sprinkle 1 teaspoon flour on top and add a knob of butter. Bring up the edges of the pastry and press together, then crimp around the edge. Place the pasty on the baking sheet, with the crimping over towards the right-hand side, rather than right on the top. Repeat to make another three pasties.
5
Cut two small holes in the top of each pasty to allow steam to escape during cooking, then brush over the tops with egg.
6
Bake for 15 minutes, then reduce the oven temperature to 180°C/160°fan/Gas 4 and bake for a further 45 minutes to ensure the vegetables are cooked through.
7
Serve immediately or transfer to a wire rack to cool.
Emily Davenport