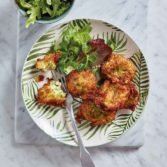 Broccoli Cheese Fritters
A Broccoli Cheese Fritters recipe taken from the
More Taste & Less Waste
Cookbook. Take one head of broccoli and cook two recipes to use all of the broccoli without waste.
Ingredients
Broccoli ½ head (approx. 225g/8oz)
Leek 1 small, sliced
Butter 40g (1½oz)
Plain flour 50g (2oz)
Eggs 2 medium, beaten
Parmesan cheese 65g (2½oz), grated
Salt and freshly ground black pepper
Rapeseed oil for deep frying
Sweet chutney and crisp salad to serve
Instructions
1
Slice off the broccoli stem and trim off the woody end. Slice off the florets and roughly chop. Cut the stem and stalks into small pieces and cook in a saucepan of lightly salted boiling water for 5 minutes. Add the florets and leek and cook for a further 4–5 minutes until soft. Drain well, reserving the cooking water. Cool for 10 minutes then finely chop the vegetables and set aside.
2
Heat the butter with 125ml (4½fl oz) cooking water, bring to the boil, remove from the heat and add the flour all at once. Using a wooden spoon, beat well until the paste is glossy, smooth and leaves the sides of the pan. Cool for 10 minutes then gradually beat in the eggs. Stir in the cheese and vegetables and season to taste. Leave to cool then cover and chill until required.
3
In a deep frying pan, heat the oil to 180°C (350°F). Use 2 dessertspoons to form flattish scoops of batter and gently drop into the oil, five or six scoops at a time. Cook for 4–5 minutes, turning once, until crisp and golden.
4
Drain on kitchen paper and keep warm while you cook the remaining batter, to make about 16 fritters. Serve warm with sweet chutney and crisp salad.
Emily Davenport