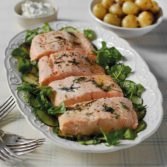 Baked Salmon
This amazing
Dairy Diary
salmon recipe makes the most fabulous table centrepiece.
Ingredients
Salmon fillets 4, each approx. 150g (5oz), skin removed
Lemon ½, juice only
Fresh dill 15g (½oz)
Butter 20g (¾oz)
Salt and freshly ground black pepper
Cucumber ½, thinly sliced
White wine vinegar 2 tbsp
Caster sugar 1 tsp
Chives 15g (½oz), finely snipped
Chopped watercress 2 tbsp, plus sprigs to garnish
Soft cheese 110g (4oz)
Light mayonnaise 2 tbsp
Steamed new potatoes to serve (optional)
Instructions
1
Preheat the oven to 180°C/160°fan/Gas 4. Line a large baking tray with foil.
2
Place the salmon fillets on the foil, drizzle with the lemon juice, sprinkle with a little torn dill, dot with the butter and season with salt and pepper.
3
Enclose the salmon in the foil then bake in the oven for 25-30 minutes or until the fish flakes easily and is even in colour when pressed with a knife.
4
Meanwhile, add the cucumber slices to a bowl with the vinegar, sugar and a little salt and pepper. Reserve a few more dill sprigs for garnish, chop the rest and add half to the cucumber and the remainder to a second bowl. Add half the chives to the cucumber and the rest to the second bowl. Gently toss the cucumber together and set aside.
5
Add the chopped watercress, soft cheese and mayonnaise to the bowl of herbs and stir together until well mixed. Spoon into a serving bowl.
6
Stir the cucumber once more then spoon onto a large shallow platter. Arrange the cooked salmon on top then garnish with the watercress sprigs. Serve with the sauce and new potatoes, if using.
Emily Davenport