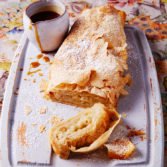 Apple Strudel with Maple Syrup Fudge Sauce
A gorgeous recipe for Apple Strudel with Maple Syrup Fudge Sauce taken from the
Healthier Comfort Food
Cookbook.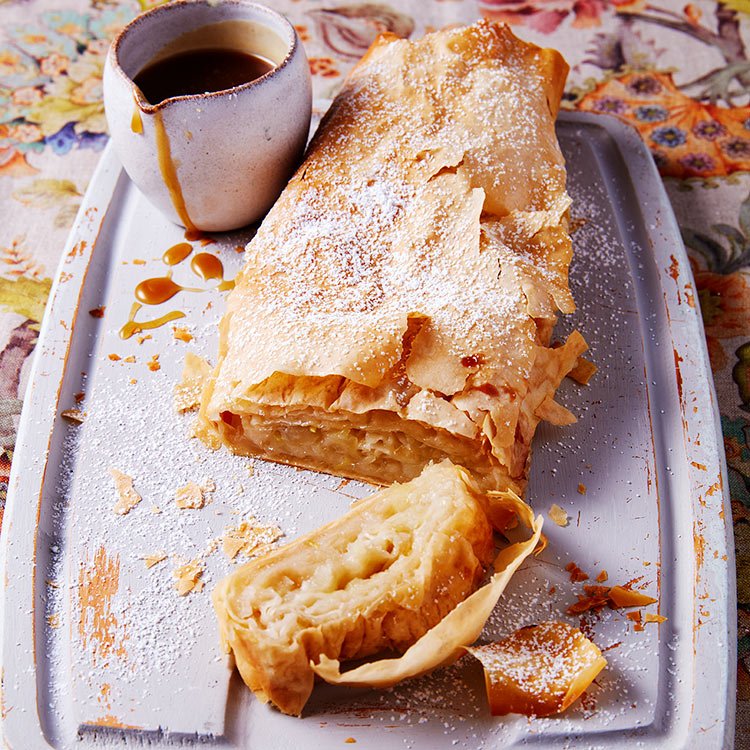 Ingredients
Tart dessert apples (such as Granny Smith) 4, halved, peeled, cored and diced
Lemon 1 small, grated zest and juice
Fresh breadcrumbs 4 tbsp
Caster sugar 25g (1oz)
Filo pastry 6 sheets
Sunflower or light olive oil 2 tbsp
Icing sugar 1 tsp
Butter 50g (2oz)
Soft light brown sugar 125g (4½oz)
Maple syrup 2 tbsp
Double cream 5 tbsp
Instructions
1
Preheat the oven to 180°C/160°fan/Gas 4. Put the apples in a bowl with the lemon zest and juice and toss together. Stir in the breadcrumbs and caster sugar.
2
Lay three sheets of filo pastry side by side on a clean tea towel, overlapping the longer edges by 5cm (2in). Brush with the oil and then lay the remaining sheets on top and brush with the remaining oil.
3
Spoon the diced apple along the width leaving a 5cm (2in) border at the bottom and each end of the filling. Use the tea towel to help roll up the pastry from the longest edge, folding the ends in.
4
Place the strudel on a baking sheet, curving it if needed, and cook for about 40 minutes until the pastry is golden brown and crisp. If the pastry is browning too much toward the end of the cooking time, cover loosely with foil.
5
Leave to cool on the baking sheet for about 10 minutes before transferring to a serving platter.
6
Meanwhile, make the sauce. Melt the butter in a small heavy-based saucepan, add the sugar and syrup and stir over a low heat until the sugar has dissolved. Stir in the cream and leave to bubble for a few minutes then remove from the heat to cool slightly.
7
Dust the strudel with icing sugar and serve in slices, drizzled with the warm fudge sauce.
Emily Davenport