How to get your tree looking like the garden centre displays
We have inside knowledge from the chief tree decorator at our local garden centre, where I visit for gorgeous decorations and display inspiration every year!
They have given me some of the top tips that they follow each Christmas, to wow their customers with a winter wonderland.
Dairy Diary fans, we are delighted to share this expert advice to inspire you to create your own magical tree display at home.
Fluffing
Once you have picked the perfect place in your home, (which should be in a room where you can enjoy it the most and near a plug socket to avoid trailing wires), if you have an artificial tree; you should spend some time 'fluffing' up the branches to make sure it is as full and authentic as it can be. If you have a real tree, choose one in a pot that will last for the whole Christmas period without shedding too many needles.
Lights
Start from the top and fold over a single branch to hold the end of the fairy lights in place. Next, walk around your tree, weaving around each branch to ensure even coverage. We would advise at least 1000 lights for a 6ft tree. A little tip is to plug in the lights before you begin to check they are working (you don't want to get to the end and realise a pesky bulb has blown!)
Colours & Themes
You can get creative with this. I usually browse Pinterest for theme ideas, or just go wild depending on how I feel that particular year. Don't forget, it's your tree and what you hang on the branches should ultimately make you happy! I have collected baubles and decorations over the years, each one bringing back a lovely memory and a smile to my face when they catch my eye.
Family Time
One thing about decorating the Christmas tree that I love the most is involving the whole household. Our favourite memories as children are helping to hang the baubles, whilst listening to Christmas music (and sneaking a few chocolates while we worked!). I am sure my Mum re-arranged the decorations after we had 'helped' as it always looked so magical afterwards. Top tip: Our Head of Dairy Diary buys each of her three children their own mini tree to decorate, their creations are always wonderful, but maybe not as neat and tidy as you'd wish for the living room display!
Baubles
My top tip is the rule of odd numbers. If you find a bauble or decoration that you love, buy at least three and add them to the tree together, spaced apart equally! This will give an aesthetically pleasing balance. Make sure to also secure heavier, glass, one of a kind or more expensive baubles by folding the branch over the tie.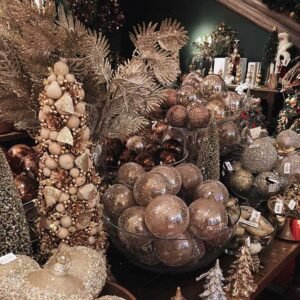 Tree Skirt
This has only been a recent discovery in our household, during the last 5 years or so. We opt for a grey wicker tree skirt, to hide the unsightly wires and plastic tree base, which distracts from the magic. If you have a real tree, a tree skirt will also help to catch the needles.
Topper
Your tree might look fabulous without this, but we always opt for a statement decoration to adorn our hard work. You could go for the classic star, an angel or something a little quirkier. Artificial flowers have been popular in recent years, so have beautiful bows. The choice is yours, and there are lots to choose from!
Presents
This is the extra mile, and it may not be suitable if you have young children around. It may raise some awkward questions about the man in the red suit… BUT if you manage to get your Christmas shopping done a little earlier you could wrap them using beautiful wrapping paper, bows and tags, to match your tree theme. It finishes off the look with great effect. You could just wrap empty boxes if you haven't been that organised this year and if you have family members who just can't resist giving them a little shake!
Hope you enjoyed reading our first 2020 Advent blog and took away some good tips!
As always, we would love to see your creations! Please share a picture of your beautiful Christmas tree and tag us on Facebook, or Instagram.
Make sure to use the below hashtags!
#DairyDiaryMoments
#DairyDiaryChristmas
#2021DairyDiary

A passionate foodie (with a very sweet tooth). Who likes to blog about all things DIY & scrumptious recipes.