Whether you are a new family (congratulations!) or want to try something different this year, we have put together a list of the best festive activities to help you get excited for the big day, and most importantly, to create lovely memories that will last a lifetime. 
Set up a Christmas Eve 'Hot Chocolate Bar'
Well, this can be done on any cold evening, but it is extra special at this time of year. Make sure to have all the fancy ingredients displayed and ready to go, such as candy canes, marshmallows, coloured paper straws and sprinkles.
What's great about this one is any age can enjoy a warming mug of something sweet, you could even add a shot of brandy or Amaretto (grown-ups only!)
Then snuggle up together on the sofa to watch a Christmassy film.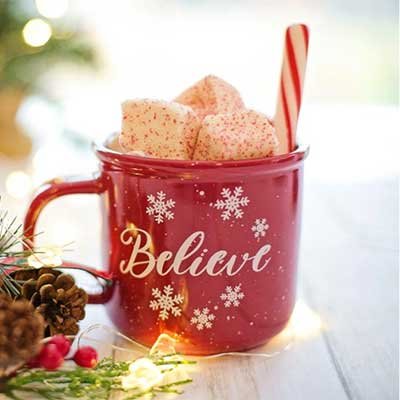 Free neighbourhood light show
Great fun for both children and adults. Pick a clear evening and cram into the car wearing cosy clothes. Take a big bag of popcorn too.
Drive around your local area to spot as many dazzling displays as you can. When I was a child, there was always one or two houses that always put on a fabulous display, with donations made to charity. We headed there first as it was a magical experience, one that we will always remember.
Bake & decorate cookies or gingerbread
Fun, affordable and delicious, just don't think about the mess… Baking together is a great family tradition. The best bit (after eating the creations) is decorating them. The biscuits don't have to be pretty as a picture, in fact it is more enjoyable to be as creative as you like.
The perfect cookies are the ones made using a recipe from the very well-used cookbook that has been in your kitchen for years, meaning they are tried-and-tested. We know you are thinking of the Dairy Book of Home Cookery of course!
Try this recipe for Dainty Iced Gingerbread and decorate!
Leaving food out for Father Christmas & his reindeer!
This was a must every year in our household, homemade mince pies, a small glass of sherry and a carrot for Rudolf! On Christmas morning, we raced downstairs to find a half-eaten mince pie, a gnawed carrot and an empty glass – easy to see which was Santa's favourite!
"But why hasn't he eaten it all, do you think he doesn't like my mince pies?", my mum answered with, "well, he can't eat everyone's mince pies in one night, can he?".
You can of course leave milk out instead of sherry or cookies if Santa isn't a fan of mincemeat!

A passionate foodie (with a very sweet tooth). Who likes to blog about all things DIY & scrumptious recipes.