Trying to be eco-friendly at Christmas can be a challenge
But we are all aware of how important it is to make every effort we can to be more sustainable.
Small changes can make all the difference in reducing our environmental footprint, especially over Christmas.
Gifts
Quality not quantity
Buying fewer but better-quality gifts reduces the chance of them going to waste – why not do a secret Santa with friends or family and try to avoid the novelty gifts that just get thrown away.
Gift an experience
Reduce demand for physical resources by gifting an experience to your loved ones instead. You could also consider a charitable donation in their name, animal adoptions or sponsoring a disadvantaged child.
Think about materials & packaging
Try to avoid single use plastic and consider buying second-hand. Reduce waste even further by buying gifts with little or no packaging. Sometimes shopping local can help with this, especially if you have a local refill shop. And don't forget your reusable Dairy Diary shopping bag to carry all your shopping home!
Wrap it up
Look for cards and wrapping paper made from recycled of FSC-certified paper. Avoid plastic ribbon and tape and foil-backed, glittery paper that cant be recycled.
Food
Cut your food waste
Try to cut any waste by planning ahead – be realistic about how much food you need and use up leftovers – Take a look at the Dairy Diary website for great recipe ideas and our More Taste & Less Waste cookbook.
Know your logos
When shopping for food, look for UK produce to reduce food miles and sustainability certifications such as RSPO-certified palm oil and MSC-certified seafood.
Eat seasonally
Buying locally-produced products when they're in season can ensure your shopping basket is more sustainable as it reduces the energy that might have been spent growing foods out of season.
Decorations
The Christmas Table
Look out for FSC-certified crackers, or reusable DIY crackers that you can fill yourself with eco-friendly gifts. Avoid single-use tablecloths and napkins and opt for material versions which have a longer lifecycle.
The Christmas Tree
If buying an artificial Christmas tree try and use it for as long as you can. If buying a real tree, make sure it's responsibly sourced. Purchasing a potted tree is also a good idea as you can reuse it each year! Why not got a step further and rent a Christmas tree? Various places let you care for the tree over the festive period and return it to be replanted for use again the next year.
Partywear
Dressing for the party season
My Mums favourite tip – go shopping in your wardrobe!  Try to use clothing that you already own!  If you really can't find anything to wear, ask your friends or family, and try looking around second-hand shops for your new Christmas party outfit
The seasonal recipes featured in the Dairy Diary will help to ensure you are using the best produce for the time of year - helping to cut down on waste and food miles.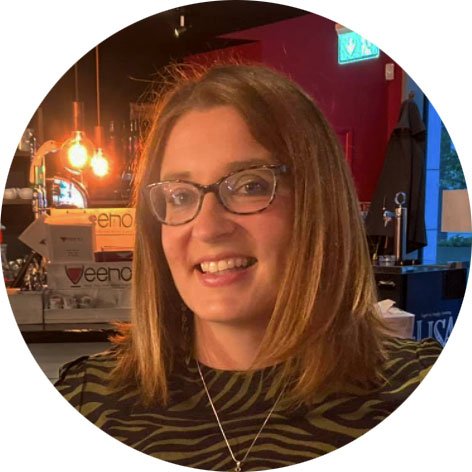 I look after communications and marketing at Dairy Diary. I'm a busy mum and love home baking and cooking for my family. In my spare time I enjoy visiting the theatre, eating out with friends and exploring the great outdoors!